4815 Jefferson Street Northeast, Albuquerque, NM 87109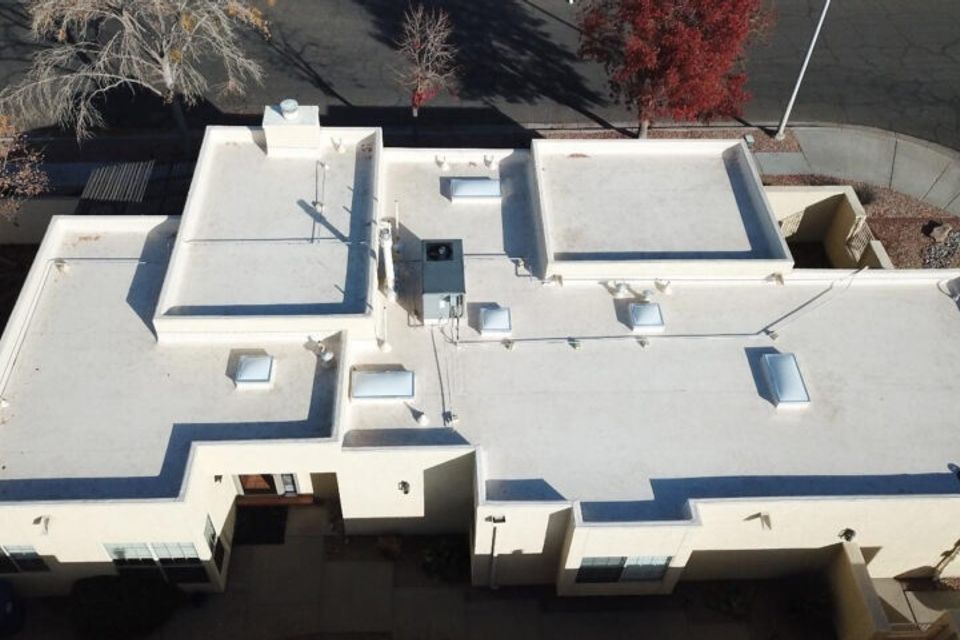 NEW! TPO Roof Remodel
This roof took our TPO crew two days to complete. The project came out to twenty-four squares or 2,400 square feet. We had six TPO specialists on the first day, working from 6:00 AM to 5:00 PM and eight TPO roofing specialists work from 6:00 AM to 5:00 PM on the second day.

Our crew tore off two roofing layers to the deck and replaced the existing canales with new TPO canales. We mechanically fastened 1/2" thick expanded polystyrene insulation over the roof substrate and also mechanically fastened 60 mil TPO (tan color) and welded together. Next, we installed a TPO metal termination strip at the top outside corner of all parapet walls plus boots on all penetrations; clamped and caulked.

Our crew inspected and probed all seams and detail work. We replaced three - 2X2 skylights and three - 2X4 skylights. Finally, we hauled off all trash (including an old satellite dish) and left the premises clean. Our roofing crew used all the appropriate safety procedures, such as wearing hard hats, safety ropes, tying off the ladder, etc.

This new roof carries a twelve year labor warranty and twenty year material warranty. We pulled a permit through the city and passed final inspection.